Cotton Socks are the Best Socks in the Philippines
Cotton is an essential material for many reasons, not just for clothes. It is a natural fiber that can provide more comfort than synthetic fabrics. It has excellent properties for protection against bacteria and fungi and a remarkable ability to temperate your feet by absorbing heat and sweat away from the skin's surface. That is why cotton socks are most beneficial in countries with hot climates like the Philippines because they absorb sweat, which can be dangerous for one's health. You get all these benefits with cotton socks without sacrificing comfort or quality. Today cotton socks are an essential part of any wardrobe and a great way to improve your feet's health. Let's talk about the benefits of wearing cotton socks.
Cotton Socks'
Moisture Wicking Properties
Like other natural materials, cotton offers cooling in hot climates because fabrics absorb moisture. Cotton also can wick moisture away from your skin and release it to the air around you. Cotton contains a lot of water, which it retains. It is excellent for wicking away sweat and moisture from the skin which helps keep your feet dry. Also, this process makes cotton socks ideal for insulation during hot weather, primarily if you work in an environment where you need to wear shoes that can't accommodate thicker socks, have sweaty feet, or even have sensitive skin. The cotton fibers will prevent the heat from seeping in and the sweat from seeping out.
Cotton Socks
Offer Breathability
Cotton is a light fabric that allows your skin to breathe and release heat. The fibers in cotton are also loose enough to allow air to flow through the material and help keep you cool. One study found that wearing a polyester shirt on an 85-degree day resulted in much more heat buildup than wearing an all-cotton shirt at the same temperature. The same goes for wearing cotton socks. Cotton is a natural material that provides comfort and breathability for your feet. The stretchy fabric allows you to slip your foot in and out of the sock easily. Cotton socks are excellent for sports, workouts, or other intense activities that make you sweat.
Cotton Socks'
Anti-Microbial Properties
Cotton has natural antibacterial qualities and is resistant to most allergens and irritants, making it perfect for those who have sensitive skin. We can find cotton in the fabrics of many of our clothes, like socks, because it is often more comfortable than other materials.They also have antimicrobial properties that prevent you from having smelly feet. In a study, the researchers found that cotton socks can protect against foot odor by destroying the bacteria that cause it. This is because when cotton absorbs sweat, the fibers act as a shield to stop bacteria from reaching your toes and causing bad smells.This way, you can wear them longer without developing any unpleasant odors.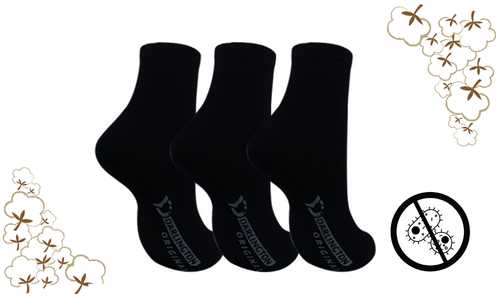 Cotton Socks
Foot Cushion
Cotton socks provide relief between feet and shoes. They provide extra cushioning, reduce friction between your feet and shoes, and are made with natural cotton, breathable and absorbent. They also prevent an itchy sensation on your feet because they are soft to the touch. They're an affordable yet practical addition to your everyday wardrobe that can improve the quality of your shoe experience.

Cotton socks come in many styles like the ankle, knee-high, crew, toe-less, booties, and more. They are way more practical than other materials like wool or synthetics, making them an excellent option for those who seek quality and durability. Moreover, they are perfect for all socks lovers who want to feel great with the most natural and lovely fabric.
Check out the best cotton socks from Darlington: