Changing the High Socks Game
For too long, socks have been considered better off hidden in one of your drawers or under the leg of your pants. We say, no more—it's time to put some spotlight on socks and look into the high socks trend!
Who said that high socks can't be fashionable? Whatever the length of your socks may be, it's perfectly fine to make socks the focal point of your outfit. Besides, a fun pair of socks can spruce up a monotone or basic outfit into something fun and sophisticated. When paired properly with the right clothes and shoes, the right pair of socks can also serve as the base of an amazing outfit. With this, we present you some ideas on how to style long socks.
1.
Channel Your Inner Jennie
Ladies, a dress, skirt, and a good old pair of boots creates a perfect opportunity to wear long socks or korean knee high socks ala BlackPink's Jennie! (wink wink, we know how much you adore K-pop groups and K-dramas)
2.
Maximalist or minimalist?
If your wardrobe consists of mostly loud patterns, you may want to opt for socks with solid colors; however, if you're the minimalist type, pick a pair that matches your color palette or you may opt to go for socks with a bit of pattern or design to accentuate your ensemble. Your snazzy socks will surely catch attention as they pop from your boots.
3.
Feeling pantsy-antsy?
Should you choose to go with pants, make sure you pick trousers that allow you to roll up the cuff so you can still rock mid-calf socks.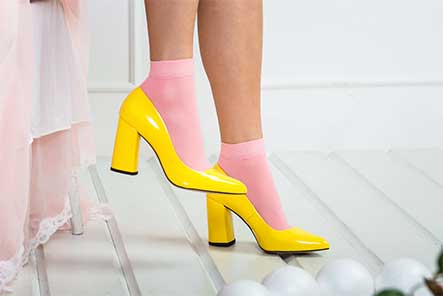 4.
Fashion faux no more
If you're feeling adventurous, you CAN also pair socks with flats (and even heels)!— yes, the socks-with-shoes trend has made a comeback.
5.
Gentlemen's club
For the gentlemen, it's a rule of thumb that socks should match the color of your slacks, not the shoe, or you will look shorter. In terms of length, it's a good idea to go for high socks, otherwise known as over-the-calf or executive socks, to make sure no part of the leg is exposed when you sit. Also, wearing high socks can make you look sharper.
6.
Be BOLD
In terms of color, black is a safe color but don't be afraid to experiment with flashy colors and patterns.
Don't get stuck with fear of going wrong in terms of styling choices because there's no right or wrong way to wear socks. While it's definitely not all black and white when it comes to fashion (and socks), know that there is always a pair of socks to match your outfit, whatever its length may be, in Darlington and Exped's diverse collection.